We are a culture in search of a body. We live in our opinions, our theories, our fixes, and our protocols. Essentially, we live in a shamed universe, a universe absent of the most essential information - our actual somatic experience. 
What can our bodies tell us?
What we are feeling and how to feel it
What we want to say and how we want to say it
What we are really hungry for - what we want/desire
What our physical and emotional symptoms are telling us
How big and powerful we really are
Where we need to fight and where we need to let go
How to deal with internalized oppression and inner criticism
What it's like to feel beautiful and sexy
Why we resist, get stuck, or sabotage our effort

s
How to embody our own authority instead of following the views of others
The aim of this program is to radically change your relationship with your body from one of objectifying, shaming, criticizing and altering, to one of learning its language, hearing its messages, dancing with its beauty, fulfilling its deep hungers, and embodying the power locked in its resistance to voices that malign, condescend or assume authority.
This program was created so that you can learn to walk your own path -  a path of soul and heart.  
This program was created for in order for you to walk that path with a constant teacher, guide, and an ally - your body.
This program was created to help you break shame's grip by accessing your authentic experience. 
One live introductory video with David discussing shame, the body's wisdom, how to access it, along with introducing the format for the program. This Zoom call will take place on Tuesday, January 10th, 2023 at 4:30pm Mountain Time.

17 Pre-Recorded Sessions: There will be 3 recorded videos for each of the months. Each video will have teachings, stories, inner-work exercises, readings, and journal promptings for you to tell your own story.

Monthly Live Ask Me Anything Classes: These occur once a month on Zoom beginning January 2023. In these sessions you can bring your questions, feelings, and difficulties from any of the course materials. David will also model skills and techniques.

A digital copy of the book, "You Can't Judge a Body by Its Cover".

A digital Guidebook that expands on the book and course, and accompanies each of the videos for easy access to exercises and journal prompts to help you integrate the teachings. Available January 10, 2023.
1

Suggested Course Schedule

You Can't Judge a Body by Its Cover Book - Digital Copy

Voices of the Body Guidebook

2

COURSE LIBRARY: Prerecorded Class Videos

VIDEO ONE: Resistance to Weight-Loss Programs

VIDEO TWO: Coming Home to Your Feelings

VIDEO THREE: Conditioned to Shrink

VIDEO FOUR: The Impulse to "Fix" or Making Things "OK"

VIDEO FIVE: The Power of What You Won't Let Go Of

VIDEO SIX: Co-dependence - Freeing Ourselves from Other's Addictions

VIDEO SEVEN: Inner Criticism and Internalized Oppression

VIDEO EIGHT: The Need for Safety

VIDEO NINE: Parental Abuse and Shame

VIDEO TEN: Depression and the Abandoned Self

VIDEO ELEVEN: Racism, Hiding Ourselves and Coming Out

VIDEO TWELVE: Breaking Out of Smallness

VIDEO THIRTEEN: What You Really Live For

VIDEO FOURTEEN: Fighting Back

VIDEO FIFTEEN: Developing Your Inner Authority

VIDEO SIXTEEN: Your Authentic Self

VIDEO SEVENTEEN: Feeling Sexy, Beautiful: Celebrating the Body

3

Recordings from Live Classes
Option One:
Purchase the course only and receive immediate access to all 17 course videos, the guidebook, and a pdf version of David's book. In addition, David will do one Ask Me Anything Session each month, where you can bring your questions and get help to deepen your learning. You can move through the course material at your own pace.
Option Two:
You will receive all of the same content and access as above PLUS receive 1:1 support from a facilitator. You can choose from 6 monthly sessions or 12 biweekly sessions.  If you choose this option, a facilitator will reach out to you after your registration to book your sessions. 
Note: Learn about the 1:1 Facilitators further down!
You want support to work on core difficulties and blocks unearthed by the program

You want to deepen the inner work you do in the program exercises

You want 1:1 support for your life goals and change efforts

You want to learn more about working somatically for yourself and your work with others

You learn best by having 1:1 support along the way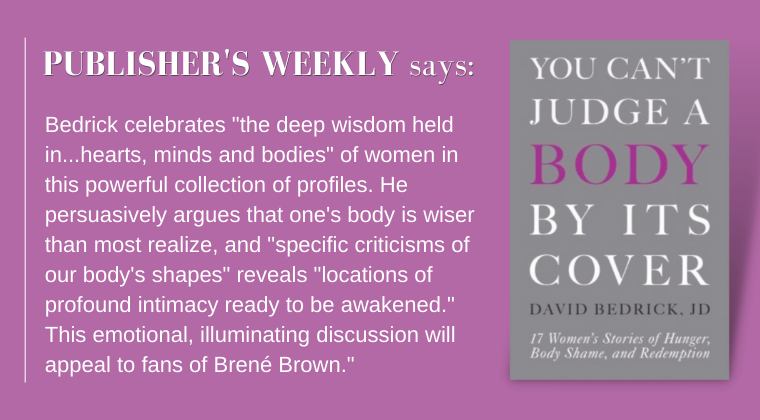 DAVID BEDRICK
David Bedrick, J.D., Dipl. PW is a process worker, attorney and facilitator. He is the author of Talking Back to Dr. Phil: Alternatives to Mainstream Psychology and Revisioning Activism: Bringing Depth, Dialogue, and Diversity to Individual and Social Change. His latest book is You Can't Judge a Body by Its Cover: 17 Women's Stories of Hunger, Body Shame and Redemption. About his new book, Publisher's Weekly wrote, "Bedrick celebrates 'the deep wisdom held in... hearts, minds, and bodies' of women in this powerful collection of profiles."
David is the founder of the Santa Fe Institute for Shame based Studies where he teachers and works with individuals around the world.
KIRAN FRIESEN
Kiran Friesen is a highly creative person (actor, painter, dancer, singer), who is passionate about humanity. She has in depth studies in various healing forms, from the therapeutic to the esoteric.  She was instantly moved by David Bedrick and his work upon being led through a profound experience of his process work.
Since then, two years ago, she's become a devoted student of his work, and includes the wisdom and compassionate view of our inner life and potential, into everything she does.  
She has also been working with others as a process-oriented facilitator and is excited to continue exploring and playing within this work.
COLLEEN LARKIN
Colleen Larkin has worked in the field of women's health for more than fifteen years both in the international global health setting for organizations such as the International Planned Parenthood Federation, working in the countries of Haiti, Mexico, South Africa and the United States, and more directly in one-on-one therapeutic settings with women from different backgrounds and cultures. 
Colleen holds a master's degree in global health; is a trained DONA International doula and birth educator; as well as a somatic practitioner.  Colleen's somatic work is deeply influenced by individuals such as David Bederick, JD,  Debra Pascali Bonaro, Suzanne Jones, Peter Levine, PhD;  and Gabor Maté, PhD.
Colleen's journey and exploration with somatic work began when she was a young teenager. She struggled with her own relationship to her body and this showed up in various self-destructive ways.  For a long time, she forget and discounted this part of her story but it is through the process of becoming intimate with this part of her journey, that birthed her deep love and passion for the body, as one of the most magnificent instruments we have as humans, in terms of one's own guidance, health, freedom and self-actualization.  
Colleen's somatic practice encompasses guiding women through a trauma informed lens to access their own inner sense of knowing, of body agency and sovereignty and through the felt sense of the body, discover aspects of self that the conscious mind might not previously been aware of: in order for individuals to experience a deeper sense of self and aliveness; and more intuitively and confidently navigate their own life. 
What dates does this program run?

The pre-recorded videos and course material are available year round so you may join at any time! Beginning January 2023 there will also be monthly live classes on Zoom for those that want to attend to ask questions about the material.

Do I have to attend the live Zoom classes?

No, they are bonus classes that are available as an extra level of support as you work through and integrate the course material but they are not a required component. These Zoom calls will be recorded if you miss them and will take place on the last Tuesday of every month beginning in January 2023 at 4:30pm Mountain Time.

How long will I have access to the course?

You will have access to the course immediately upon registering and will continue to have access to the material for the life of the program.

Do you offer any scholarships?

Yes, we do offer some partial scholarships. To apply please email David Bedrick before enrolling at dbedrickspeak@mac.com.

Do we need a copy of David's book, "You Can't Judge a Body by Its Cover" for the course??

All participants will be getting a digital copy of the book as part of the course. The seventeen stories within the book will accompany the weekly sessions in order to give participants examples of how to think about and tell their stories.